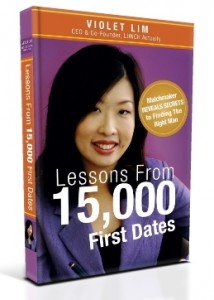 Where have all the good men gone?
Tired of meeting the wrong men? Sick of going out with guys who just never seem to commit? Or simply losing hope of ever meeting Mr. Right?
In this book, you will learn about:
What are the most common reasons men do not ask a woman out for a second date?
What are the biggest dating myths and what are the six dating realities that all single women must face to win at the dating game?
What qualities men find attractive in a woman and how you can double your dating success?
How to meet and choose the right man that will commit to you and bring you a lifetime of happiness?
Entertaining and empowering, Lessons from 15,000 First Dates will help you jump-start your dating life and set you on the right path of meeting and finding THE RIGHT ONE.
Lessons From 15,000 First Dates is now available at all major bookstores in Singapore from 20 September 2010 in Malaysia from 1 October 2010.
Broad Outline of the Book
1.  What your mother never told you about dating: Facing up to Reality
The truth about countless of women actually being left on the shelf and their one critical mistake
How men are different and what is important for him to need to feel attraction to a woman
The unavoidable trend that all women must face up to and the reason why they have to be pro-active
What 3 mistakes do many women make that put off men and send them running
Why being beautiful can back fire on many women and what they must do to come out winning in the game of love
Why some men become players and time wasters and what you can do to avoid such a man
2.  Finding a way back into Love: Letting go of the Past
The one key reason women carry more emotional baggage as compared to men.
Are you aware of past episodes that are affecting you in ways you are not even aware of when it comes to love and relationships
What are the 6 steps to that you can employ to immediately end old patterns that are stopping you from finding the right one
What are the 3 easy-to-follow methods you can use anytime that will help bring your best self forward at any place and time
3. Who cares if he doesn't call?: How to Ace the Inner Game
What are the 2 inners states of mind that you have to develop so that you have men magnetically drawn and attracted to you
What must go on in a man's mind for him to fall in love with anyone and how you can influence this
What are the 5 things and 2 mindsets that be imprinted into your mind about men and relationship that impacts how you deal with men and how they react to you
Why do men not call when they say they will and what you should do
4. Why she's married and you are not?: Adopting good dating practices
What are the 6 things that the soon to be husbands describe the women as they were marrying them
What is love? There are 3 different levels of love and which level do happily married women reach and how they do it
What are the 5 level of relationships and how to synchronise to ensure you and your dream man are on the same level for the best connection and wavelength
What is the magic number of days a week that women should go out to increase their odds of success immensely
5.  Good men don't fall from the sky, you have to find them!: Assessing the dating landscape
Where are all the good men and what is the NO. 1 way most couples meet
What is the ONE meeting strategy that you need to adopt if you are serious about meeting good and quality men
If you consider using dating services, what are the key differences between them and what you need to know before you sign up with any dating service
What are the easy but unconventional meeting methods you can adopt to rapidly expand you social circle of single men
6.  Seven Steps to Finding Mr. Right: Automating your Opportunities
How to create a system for new opportunities of meeting men to be a seamless as possible
What is a dating funnel? Understanding the nature of dating and how to use it to empower you
Are you stuck in a social rut?  How to identify if you are and how to get out ASAP
How to use an inner circle to empower your dating process and increase the odds of success for all who is involved
7.  How to ace your first date and every date: Mastering your dates
How to prepare well so that all your first dates becomes second dates and you are the one who decides if you want to go out again
Powerful conversation tips to create that comfort and connection so that he is hooked onto you after the first date
How to deliberately use your own body language to enhance you date with someone you are interested in and also read his body language to know how well the date is going
One deadly mistake that countless of women make at the end of the date and how to ensure you do not make the same mistake and ruin the entire experience.
8. Why beautiful and successful women finish last in dating?: Identifying Mr. Right
Learning about the one most important choice you would have to make and why beautiful women are disadvantaged when making that choice
Identifying and steering away from the men are the confirmed bachelors and will waste your time and tears
Knowing which men are the type that commit and marry and whom you will be able to grow even more in love with as the years passes
The practical truths in dating that would get you married versus the idealistic myths that will stunt any relationship that you enter
9. Finding love and keeping it: Sustaining the relationship
Knowing the different strategies that is involved in getting dates versus the strategies that grows a healthy relationship and knowing how to evolve smoothly
Specific "dos" and "don'ts" in each of the 5 stages the relationship with your dream man
The poisons that most couples allow into their relationship and the tell-tale signs that are scientifically proven correct 95% of the time in predicting divorce.  We will learn most crucially on how to avoid these relationship wreckers
The one relationship need that men need from their partners to stay in the relationship that most convention wisdom has failed to indentify and that other relationship gurus has failed to tell you will be REVEALED to you
Revealed: How a Plain Jane found Love: My Story
Find out about my story which I have never told anyone on how despite being a "Plain Jane", I managed to find the love of my life and have 2 wonderful children with him
What you can also learn from the my experience and take away for your own relationship journey